/
/
How to Hack Into Yahoo Email Without Password or Effort?
Yahoo Mail is a first-generation mailing platform that's still widely popular. Yahoo Mail users often use their accounts extensively in their daily lives, sending and receiving messages from clients, colleagues, friends, family, and even strangers.
If you want to find out about someone's secret phone activities, one of the best places to look is their Yahoo Mail. You can learn how to hack into Yahoo email without a password to find solid evidence of cheating if you've been noticing clues of infidelity in your relationship.
Yahoo Mail is also popular among the younger generations, and learning how to hack a Yahoo Mail password online can help you protect your kids from harmful online interactions. When it comes to employee monitoring, your spying campaign is incomplete if you don't know how to hack into a Yahoo account because many of your employees most likely use this mailing platform.
If you find yourself in any of these situations, there are many different ways to go about things — from best to worst. As one of the longest-standing messaging apps, Yahoo Mail uses industry-best security standards. Thankfully, there are many easy ways to circumvent those security measures, and we'll be sharing them with you.
Approaches to Yahoo Mail Password Hacking: Rated from Best to Worst
A high standard for user-end security is one of the most important reasons why Yahoo Mail has remained an industry leader for decades. Over the years, we've witnessed the rise of many Yahoo Mail password hackers and their fall as Yahoo Mail's proactive security patches move in. However, some proven methods have remained open-secret tools for spying on Yahoo Mail.
Here are some current Yahoo Mail password hacking methods ranked based on their reliability and results.
Using Spy Apps
The first and best method we'll recommend is spy apps. Top-notch spy apps come with sophisticated algorithms that circumvent the tight security of Yahoo Mail in many different ways.
For instance, the apps can hack an iCloud account to give access to every Yahoo Mail data synced from the target phone. Others like mSpy come with remote screenshot features that allow you to view your target's activities on Yahoo Mail in real-time. What's more, spy apps work incognito, keeping your spying campaigns under wraps at all times.
'Forgot Your Password' Technique
Away from spy apps, you can use some sneaky techniques to peek at your target's Yahoo Mail account credentials. This particular method helps you take control of their password. Chances are that their password recovery address is open on the same phone used for their Yahoo Mail account so that you can carry out the password recovery process on their phone from start to finish. Otherwise, you need access to the device with the account where the recovery request authentication message will be sent.
Here's how to hack Yahoo email password without software using the password recovery technique:
Find a good moment to handle the target device in secret, and then open the browser and load the Yahoo Mail website.
Tap the "Forget Password" button below the name and password fields.
Enter your target's Yahoo Mail account on the next page, and then select your preferred recovery method — phone or email. Once you do, a one-time authentication link or password will be sent through your select channel.
Load the link or passcode and voilà! You then have access to the target's passwords and can look up their activities on your phone anytime.
Checking Browser's Saved Passwords
This is also an easy way to hack a Yahoo password. However, you might need to 'steal' the target device for a bit and might also need to find the device passcode if it's under lock.
Here's all you need to do:
Run their favorite browser (most likely Google Chrome) on their device.
Tap the hamburger menu icon in the top-right corner of your screen and go to "Autofill → Password," or simply navigate to the passwords section of the web browser's menu.
Navigate to their Yahoo Mail password, and then tap on the view option. You may be asked to enter the phone's passcodes. There, you'll have your target's Yahoo Mail credentials in plain sight.
Keylogger
If you're not comfortable with all the variables involved in the methods above, here's something more straightforward. With a keylogger, you can obtain your target's Yahoo Mail password remotely, even if you don't have access to their device passcode or secondary authentication channel.
As the name implies, a keylogger records every key pressed on the target phone. However, you need a brief moment alone with the target phone — you can probably ask them to lend you their phone to make a call — to download and install the keylogger on the device. The installation is usually automated and takes just a few minutes.
Once installed, the keylogger vanishes from the surface of the device, executing untraceable spying operations round the clock. With that, you'll be getting constant reports of every key your target presses on their phone, including the credentials they enter on their Yahoo Mail sign-in page. You'll even get to see the messages they send — though you may not get to see the recipient addresses, except your target types them out, and neither will you get to see incoming messages.
However, these are limitations that you can easily overcome with top-notch spy apps.
Yahoo Mail Password Hacker
Some hacking apps are specifically designed to uncover Yahoo Mail passwords. Most of these apps operate with brute-force codes, exposing the target device to serious security risks. However, dedicated Yahoo Mail hacker apps like Yahoo Password Decryptor avoid the hard, cracking path, but they come with limitations like the need for some of the account owner's personal details or access to a secondary authentication account or device.
Here's how to find someone's email password using hacking tools like Yahoo Password Decryptor:
Launch the hacker tool — for this illustration, it's Yahoo Password Decryptor — on your device.
Click on the 'Start Recovery' button and then enter your Yahoo email address. Once you do, the Yahoo Login password will be revealed.
Top 5 Best Rated Apps to Hack Into Someone's Yahoo Email
If you're wary of the limitations of the other hacking methods and want to jump straight into using spy apps, we'll help give you a head start. We've assembled a list of the most trusted spy apps.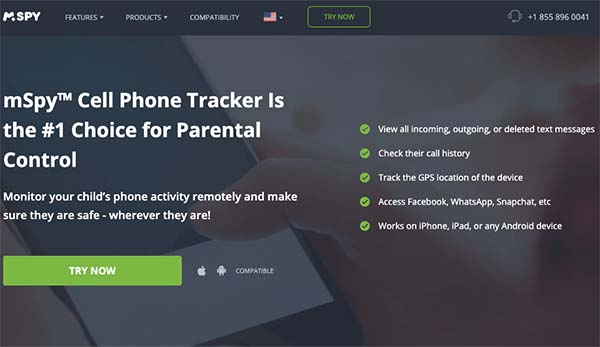 With mSpy, you'll get a wide array of spying tools to gain access to just about everything your target does on Yahoo Mail. Not only can mSpy help reveal your target's password, but it also helps you track their incoming and outgoing messages, as well as Yahoo Mail contacts. That means you'll get to see their messages as well as the details of the people they're communicating with.
mSpy provides you with a keylogger, remote screenshots, and instant messaging features. What's more, you can explore all these features without any installation requirements that might jeopardize the security of the target device.
SpyBubble provides a keylogger that you can use to discover your target's Yahoo Mail credentials. It comes with a straightforward download and installation process — you'll have no problem setting it up on the target phone, other than getting physical access for a brief moment.
If you're targeting an iOS device, it's all the better because you might probably only need to enter your target's iCloud credentials on your dashboard.
XNSPY
XNSPY is an ideal Yahoo password cracker for employers because it allows you to monitor several Yahoo Mail accounts with the same spyware account. That means you can track your entire team without any extra cost. XNSPY also comes with a fairly straightforward download and installation process and supports a seamless user experience.
The only drawback is that you need physical access to the devices. However, you won't need complex technical procedures like rooting/jailbreaking to enable the necessary spying features.
Hoverwatch
For parents who want to keep their kids safe from people with ill intentions, Hoverwatch is the best option. Hoverwatch provides both tracking and remote control features to give you greater control over your kid's activities. Not only does it allow you to track their Yahoo Mail, but you can also prevent them from exchanging texts with suspicious contacts, thanks to excellent parental control features.
You'll also enjoy a straightforward download and installation process, plus easy access to responsive technical support whenever you need to.
Spyine
Spyine offers many simple ways to hack Yahoo Mail, including through a keylogger and browser tracker. The keylogger report will capture your target's credentials once they log into their account.
With the browser tracker, you'll get to view the content of every web page they load on their device, including those relating to their Yahoo Mail activities. Spyine can work without requirements like jailbreaking or rooting.
How to Get Into a Yahoo Account Without Password Using the mSpy App?
mSpy is our favorite tool for learning how to hack a Yahoo account easily because it provides you with an unparalleled range of features to execute your hacking campaigns successfully. With mSpy, you don't have to worry about limitations like two-factor authentication or the need for account passwords.
Here are some of the benefits that mSpy users stand to enjoy:
Hack Someone's Email Without Password
With mSpy's high-tech, lightweight algorithm, you'll get to enjoy unfettered access to your target's Yahoo Mail activities. mSpy gives you full control over your target's apps, personal information, account credentials, and lots more.
Once installed, mSpy drills deep inside the target phone, from where it rolls out various tracking and remote control operations without ever leaving a clue behind on the target phone.
mSpy can reveal everything about your target's Yahoo Mail activities without requiring the account's password.
Easy Way to Hack Yahoo Password With mSpy
mSpy's keylogger provides a well-detailed, analysis-ready report of your target's keypresses. With that, you can easily collect their Yahoo Mail credentials. If you can't log into their account because of two-factor authentication, you can turn to other features like the remote screenshot and browser tracker.
With the remote screenshot, you can take live pictures of what your target is doing on their Yahoo Mail account, including the messages they send or receive and the multimedia files they share.
What's more, mSpy saves copies of these tracked phone data on a remote server, so you can view them whenever you want to — even when they've been deleted on the target phone.
3 Step mSpy Installation Guide (For iOS & Android)
From start to finish, setting up mSpy only takes a couple of minutes. There are basically 3 steps involved:
Step 1. Buy mSpy
Load mSpy on your browser and then click on the 'Try Now' button. Enter your valid email on the sign-up page, and then choose the type of device you want to spy on. After that, you'll need to select a suitable subscription plan and complete your payment. Once you're done with that, you'll receive a confirmation email containing instructions on how to set up the app.
Step 2. Install and Set Up
Follow the instructions in your confirmation email and set up the spy app. For Android devices, you'll need to load a link on the target phone to set off an automatic download and installation process.
For iOS devices, you simply need to enter your target's iCloud credentials — provided two-factor authentication is inactive and iCloud syncing for Yahoo Mail is active on the target phone.
Note that if you want to deploy a broader range of spying tools, you might need to root or jailbreak the target phone.
Step 3. Start Tracking
That's it. You can log into your mSpy dashboard to view up-to-the-minute updates of your target's Yahoo Mail activities whenever you want to.
Final Thoughts
Despite the industry-best security standards safeguarding Yahoo Mail accounts, you can still learn how to hack someone's Yahoo Email easily, provided you use the right tools. We've highlighted some of the easiest, most reliable ways to learn how to get into a Yahoo account without a password and show you our pick of the bunch for obvious reasons.
If you don't want to download anything or put the security of your target device at risk, you can try out the password recovery and autofill password techniques. But if you want a more reliable method with minimal chances of getting caught or exposing your target device to security issues, you should consider spy apps. You can install a top-notch spy app like mSpy in a breeze and gain access to your target's Yahoo Mail activities without their password.
A text tracking specialist, Michael focuses on discovering the source of specific messages.
Comments