Cybercrime is quite common in this digital era and to stay safe, keylogger can be a great option to choose. With the free keylogger for Android phones, you can make informed decisions and keep yourself safe.
What is Keylogger?
Keylogger is an application that allows the users to keep on eye on others by recording the keystrokes when they press them on the phones. By the term 'keylogger', it implies 'key' meaning strokes and by 'logger', it means recorder.
The keyboard logger Android app is like a software that can be installed on the computer or any hardware device which is attached to the computing device for recording the keystrokes pressed on that device. With this key logger Android application, anything you type gets recorded and stored which can be observed later.
How can I Choose a Good Android Keylogger?
There are many stealth keylogger for Android apps available that will allow you to figure out the buttons that someone has pressed, typed or searched in Google. One of the advantages of checking the recorded keystrokes is that you can find out the passwords of various online accounts.
To use the best keylogger app, you can check its features and decide upon what app you would find suitable. Keyloggers used today are more sophisticated tools that offer a wide range of functionalities. Some of the main features available in the best Android phone keylogger application are:
Installation:
Just imagine if it takes hours to install a free cell phone keylogger application on your mobile phone. The best keylogger app for Android thus should be easy to install. There are some apps that can be installed remotely without the need to access the phone, but it only leads to mixed results. There are Android keylogger free trial apps available that you can try at your own convenience.
Stealth:
Once you have installed the invisible keylogger for Android, you can run it successfully without it being detected by any of the users who might have access to your phone.
Functionality:
The stealth keylogger Android app offers valuable features that a user can benefit from. With this app, users can check the text messages, email communications and social media messages on WhatsApp, Facebook, SMS, SnapChat and others. You can track all the messages with details of the recipients, senders and others.
Every person has his own specific needs in terms of choosing the features he would like to enjoy in the phone and accordingly, you can select the right Android keystroke recorder app that fits your custom preferences.
With its GPS feature, users can track the location of any person and it is also possible to record real-time movements. These sophisticated features let you select an ideal keylogger cell phone app such as browser history, contact changes, geo-fencing, blocking calls, recording calls, contact changes, calendar entries, recording photos taken and others.
One of the great features of this cell phone keystroke logger app is geo-fencing which makes it possible to send alert notifications whenever you enter a specific geographic area or limit using your phone to specific places.
The wifi keylogger Android app also has the functionality of blocking calls that restrict the calls being received from specific unwanted phone numbers, allowing you to make phone calls to limited number of people only.
Ease of Use:
It is very easy to use the Android keylogging app and has been found to be highly useful, especially the reports that are generated using the app which are presented clearly and are easy to understand by the users. The stealth Android keylogger app is accessible for all types of operating systems such as Windows, iOS, Mac and Android devices.
If you are wondering what does a keylogger look like, below you can find the top 10 spy keyloggers for Android:
mSpy – Powerful Remote Spy with Keylogger Function
Price:
mSpy is one of the best Android keylogger apps available on the iOS and Android phone devices with cost starting from $16.99.
Description:
One of the top keylogger apps, mSpy offers a wide range of functionalities and features to control the target device. With this app, it is possible to monitor each stroke on the mobile device of your kids. Using this undetectable keylogger software for Android app, you can prevent or block any kinds of communications that result from interactions with the bulliers, strangers, online predators and others.
How can I Use mSpy for tracking keyloggers on the target Android phone?
Step 1: Firstly, you can select the subscription package that meets your family needs. After you make your payment and it gets processed, you receive email instructions about how you can install the mSpy app.
Step 2: Download the mSpy app and install it in your kid's phone. This keystroke logger app is easy and quick to install. For any technical assistance in installing your app, you can contact the support team.
Step 3: After installation is complete, you can login into the control panel of your mSpy mobile phone keylogger app and monitor all the activities of your kids such as browsing history, keylogger logs, GPS location and others.
iKeyMonitor – 3-days Free Keylogger
Price:
The app gives the option to offer 3-day free trial and is available to use in the iOS and Android phones starting from $49.99.
Description:
iKeyMonitor is a top keystroke logger for Android phone apps which is though highly-priced but offers great features to compensate for the price. With this app, you can improve the productivity of your employees as you can monitor the installed apps and log history of incoming and outgoing calls and text messages.
Using this secret keylogger for Android app, you can read the messages on social media apps such as Facebook, Gmail, WhatsApp and others. Gaining access to screenshots of mobile user activities is also possible with this keystroke app for Android app.
FlexiSPY
Price:
FlexiSPY phone logger Android app is available to download for devices such as Nokia, iOS, Blackberry and Android that cost $68. This keystroke app doesn't have a free version.
Description:
This mobile spy keylogger app enables you to record the keystroke history and monitor it remotely. The cell phone logger app also sends alert messages whenever there's a concern about the safety of your kids or there is a breach of sensitive data. With the keylogger phone app, you can view the applications on which the keystrokes were recorded including the data and time of the logged keystrokes.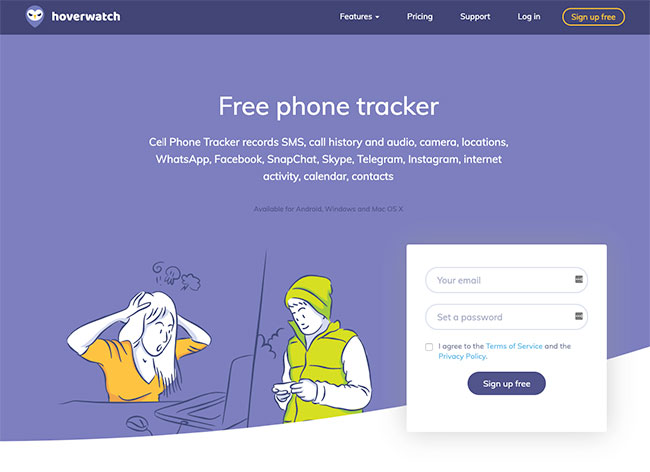 Hoverwatch Mobile Keylogger
Price:
Hoverwatch stealth keystroke app can be downloaded on Android and iOS devices that start from $19.95. Its trial version can be tried for free without entering credit card details.
Description:
The Hoverwatch phone keystroke logger app has basic functionality with limited features and allows recording inputs to very limited messaging apps. The keylogger keyboard Android app does not have good camera access functionality but you use this app to effectively watch any external activities on your phone secretly such as recording the calls, spying on text messages etc. Signing up for its services allows you to add all the devices to single account only.
TheTruthSpy – Reliable Keylogger Software for Android
Price:
TheTruthSpy track keystrokes on Android app is available to download on iOS and Android devices with the price starting from $16.99 that can vary depending upon the features included.
Description:
Being the top keylogger app, TheTruthSpy is simple and easy to use application. It hardly takes a few minutes to install the application. It is one of the popular spying software to be used on devices such as Android, iPhone, PC and others. This is an invisible tool that never gets noticed by anti-virus software. Using this Samsung keylogger, you can capture and track the textual messages, passwords and other details on the target device.
XNSPY
Price:
XNSPY is one of the best free Android keylogger apps available at $99.99 per year and is compatible with iOS and Android devices.
Description:
This free Android keylogger stealth app offers a comprehensive list of features to benefit from such as taking screenshots on the phone. It is a powerful app that works great with all the instant messaging applications. With this keylogger for Android tablet app, you can easily track the productivity of your employees and check to see whether they are surfing the internet for something not related to work.
Using the Facebook keylogger for Android, you can track whether your kids may not be involved in sharing sensitive information such as credit card details with any strangers.
Highster Mobile
Price:
Highster Mobile is available to be downloaded and installed on iOS and Android devices with the price starting from $74.99.
Description:
One of the reliable keystroke logger Android free apps is Highster Mobile. Using this app, you can track and monitor all the phone activities easily and quickly. It is an advanced free keystroke logger Android application that offers the feature of confidentially recording the text messages and tracking the calls from different platforms such as Android, iPad, tablet, iPhone, iPod and others.
Some of the key features of this keylogger for Android free download include call log, email log, photos and videos log, real-time tracking, browser history log and others.
MobiStealth
Price:
MobiStealth is not a free hidden Android keylogger app and can be downloaded for $16.66 for Android devices and $33.33 for iOS devices.
Description:
This Android keylogger without root is one of the oldest keylogger apps that offers comprehensive solution of securely monitoring phone activities with the feature of viewing the photos and videos on your target phone device.
It has some good features such as taking screenshots when a user changes his application and visits a new website while it also effectively tracks the locations for your laptop. With the ability to record each email, text and instant message sent and received, this app works as a powerful employee surveillance tool for monitoring the computing activities.

mSpyTracker – Online Keylogger
Price:
The price for the mSpyTracker app starts from $39.99 and can be tried for free while it is also possible to view its demo.
Description:
The mSpyTracker app has a dedicated Keylogger Panel to remotely monitor the social activities on WhatsApp, SnapChat and other social apps. It can read all the words that are typed in any of the apps and have some great features available to use such as line tracker, text monitoring, social media monitoring and others.
The app comes with 33 spying tools, all accessible from one single dashboard and provides the capability to view the videos and photos as well as track the GPS location.
Copy9
Price:
Copy9 is one of the best keylogger apps that you can download in the Android and iOS devices with price starting from $21.60 and above with more features included.
Description:
The Copy9 keylogger app appears to be similar to the TruthSpy app. It provides versatile monitoring solution that works great for your employers and parents. The app can be used for several purposes such as tracking calls, instant messages, textual messages and other phone activities. All the details of the messages sent and received can be checked in the control panel.
To track the social activities of your children and even employees, there are many download keylogger for Android apps available. These free keylogger for Android tablet apps offer several key benefits with loads of features to enjoy. With this invisible keylogger for Android free download apps, you can control the internet activities effectively with no hassles involved.

Joanne specializes in both iPhone and Android operating systems. She spends time developing various functional, high-ranking applications.
Comments